Pre-school and nursery website design
Beautiful websites for pre-schools and nurseries on a small budget.
Great value, easy to use websites that you can update yourself.
Get a professional website for £500*
Have you ever wondered how to get a professional pre-school website on a small budget?
Pre schools and nurseries often have budget constraints and are run by volunteer committees. However an informative, attractive website is vital for current and prospective parents.
If the following situations are familiar to you we can help.
– You have already tried to build a website on your own, but you got stuck and can't complete it, or you were unhappy with the result.
– You paid someone else to build a website for you, but you have no idea how to update it. You are afraid of making even the smallest change so end up paying each time you want to make an update.
– You don't have the budget to pay a website designer to build a bespoke website for you.
Pre-school website design
We can create great looking, easy to use pre-school websites which are easy to update, fully supported and offer great value.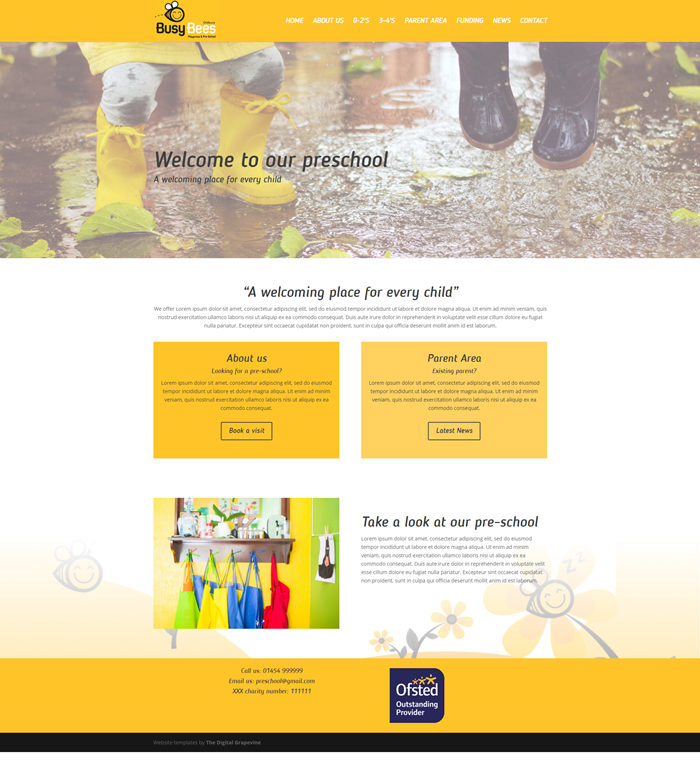 What are our ready-made pre-school websites?
Building a website from scratch is not easy, but we have a solution that gives you a professional looking website for only £500* (*domain name purchase and annual hosting not included)
The advantages of this approach:
– We have done the hard work,  you just fill in the gaps.
– The site will be customised to fit your branding.
– No coding or complicated software required.
How it works:
– We have created a pre-school website layout which contains all the pages you will ever need.
– Built on WordPress we will also include the Divi theme (worth £200) for free.
We do the all technical parts:
– Setting up your hosting
– Installing WordPress
– Uploading the theme and templates
– Adding your logo and branding
– Adding your content and images
What you need to do:
– Provide us with your pre-school logo and existing branding.
– Supply the website copy content which we then fit into the template.
– Be available for training so you can learn to maintain the website in the long term.
Book a FREE consultation
A face to face meeting is often the best way for us to understand your business and what you need your website to do.
We are happy to meet with you to go through your requirements and use this information to provide you with a fixed price quote.
Contact us to arrange a consultation.
Privacy
At The Digital Grapevine we take your privacy seriously and will only use your personal information to administer your account and to provide the products and services you have requested from us.
Read our full Privacy Policy.