Knowledge is Power! Be guided by your users, don't guess!
Your website is an absolutely vital cog in your marketing plan. For many potential customers it's the first place they come to discover more about you. If you have invested time and money in creating a great, professional looking website and funding advertising campaigns to drive users there, you need to know how effective these activities are. Do you actually know who is looking at your website, where they came from and what they are doing on the site once they get there?
Even with the best intentions and a fair idea of how you THINK users are behaving, actual data can empower you to make informed business decisions about your website and marketing activities. 
Without tracking you can't know what is working and what isn't. You won't know where you are wasting time or money and the areas that need improvement. Regular reporting and reviewing of your website performance data can make all the difference to your business. 
Here are five reasons why you should be analysing your website data.  
Discover where your users come from
Do you know where your users come from? Are you assuming they all arrive from search engines, or find you directly? Are you spending time on social media marketing and assuming it is working? Social platforms can be a great way to drive traffic and engage potential customers but some may be more effective channels than others.
By monitoring analytics you can see where your website traffic is coming from and this can help you make informed decisions about how you target your marketing. You can find the social platforms your users like and focus on them. If organic search is low you can work on improving this by creating more original content and targeting the main keywords.
Understand how potential customers engage with your website
Website analytics gives you the information to understand the users' experience of your website. You may discover things about your visitors that surprise you! Monitoring user activity allows you to discover how users engage with your calls to action, how long they stay on the website and how many pages they look at before they leave. You can monitor something called the bounce rate. This is a measure of how many users come to your website , view one page and then leave.  The theory being that if the user bounces away they haven't found what they are looking for. 
Ultimately having lots of visitors to your website is pointless if they don't engage and leave straight away. Analytic information can help you find out which pages may be the problem and allow you to focus on improving them.
Uncover your most popular content and focus on it
Analytics can show which pages are viewed the most, which ones are increasing in popularity and the pages that people stay on the longest. This information tells you what your audience is really interested in and you can then tailor content based on this information. This is really helpful when planning blog post content. 
For example you could have one service that is getting a lot of views and it is increasing over time. You could write a blog post that further explains this service or share a case study that shows potential customers how you can help them. You could review the service page itself and ensure that it works well for the user.
Monitoring users engagement can highlight trends. It could be that at different points of the year certain services are more popular. If that is the case tailor your content to fit in with this. Give your audience what they want rather than second guessing what they might like. This will get more visits to your website, boost site engagement and help you gain more customers.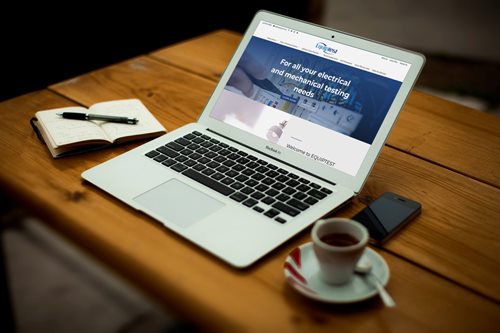 Ensure you spend your marketing budget wisely
If you are spending money on ad campaigns or referral links monitoring your web traffic will show you how many users come to your website from those sources and how they behave when they get there. If an ad campaign is driving users to the website, just for them to leave straight away, it could mean that your ad does not align with the website. Does it focus on one service that is then not featured clearly on the landing page? Are you paying to be on listing websites that result in a low number of referrals? Website analytics can show how much traffic you are getting from these sources.
The data allows you to ascertain which marketing campaigns are bringing the greatest rate of return. If one form of ad campaign is performing well it may be wise to funnel more funds to it to maximise success. We have used this data to help clients who are being targeted by sales people to up their marketing spend. We can give them the performance data on the users who come to the website from paid activities. They can then make an informed decision about any further investment.
Use the data to help you measure and amend your activities
The information provided by website analytics allows you to amend and tweak your website and marketing activities in response to user behaviour. You can try different ad campaigns or content and then measure it's effectiveness. By measuring and reviewing performance on a regular basis you can understand what your users want and spend your time and money wisely.
It is important to remember that changes take time to make a difference. No one gets to the top of Google in a day. Content can take time to make an impact. We have written blog posts that are performing well for clients, years after they were written.
Don't be overwhelmed by the data!
If you want to start tracking your website's performance but don't know where to start, we can help. We can provide monthly or quarterly performance reports that give you all the information you need as well as recommendations for improvements.  Over time we can spot trends and further understand user activity.
This data helps you truly understand how potential customers use your website and helps you target them more effectively. Your website is a great marketing tool, make sure you maximise its potential. 
If you want us to help you, book a free online consultation or get in touch for a callback.